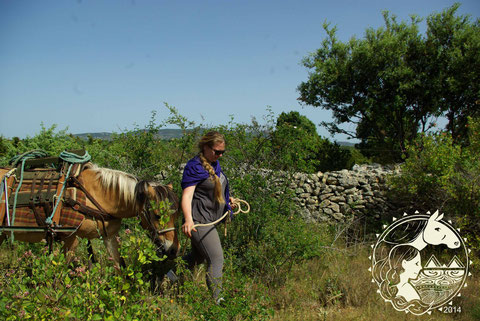 Début Juin 2014, j'ai eu la chance d'être accuellie à la ferme muletière du Grand Pâtis en Ardèche, pour en stage de formation au bât.
Le cadre est magnifique et la parenthèse équestre loin de Paris était la bienvenue pour moi.
Émile BRAGER est l'auteur de "Techniques du voyage à cheval" (à acheter sur son site internet) et a parcouru plus de 45 000 kms à cheval depuis 30 ans. Il a chaleureuseusement partagé conseils et astuces en plus des bases sur les différents types de bâts civils et militaires actuellement trouvables, leurs caractéristiques et leur(s) usage(s).
Cette formation a été un vrai plaisir en plus d'être très instructive.
Émile et Marie sont d'excellents homme et femme de chevaux, que je pourrais passer des heures à observer travailler avec leurs mules et juments.
Je la conseille à toutes les personnes cherchant à se familiariser avec les bâts, qu'ils soient à usage agricole ou de voyage : dates des stages.
En voici un petit récit plus détaillé :
Early June, I had the chance to be received in the Mule Farm of the Grand Pâtis in Ardèche (South-East of France) for a training on packsaddles.
The place is breathtakingly beautiful and the equestrian break far from Paris was very welcome!
Émile BRAGER has travelled more than 45 000 kms on horse back in the last 30 years, and is the author of "Techniques du voyage à cheval" (to order from his website directly). He warmly shared with us his knowledge and tips about packsaddles, their use and caracteristics, where to find them and customize them depending on the use and the horse/mule etc.
This training has been very instructive and a real pleasure. Émile and Marie are real "horseman" and 'horsewoman" and it was a pleasure to observe them work with their equine friends;
Here's a more detailed tale of the training:
Le premier jour, nous avons vu les différents bâts d'origine militaire (suisses, italiens...) ainsi que les possibilités de modifications sur ceux-ci.
Ensuite, nous avons appris les noeuds de base nécessaires à l'utilisation de ses bâts et de leurs charges.


On the first day, we studied the military packsaddles (Switzerland, Italia...) and the possibilities for customization.
Then we studied the differents knots required for a safe use of the packsaddles.
Je me suis entrainée sur les noeuds toute la soirée, mais c'est pas encore ça, il va falloir continuer jusqu'à pouvoir les faire les yeux fermés, de nuit sous la pluie ! ;-)
Une petite page très instructives sur les noeuds utilisés en équitation :
http://www.cdtey.fr/matelotage/les-noeuds-du-randonneur.html
À bientôt pour le second jour !
Maxence
I trained myself on knots the entire evening, but I'm still struggling with some. Will have to keep training until I can do them all eyes closed, in the dark by a rainy day! ;-)
See you soon for the second day!
Maxence